The apron has baked a lot throughout its travels, so I thought I'd change things up a bit. It was a tough choice, but this is Florida so the sea persuaded us.
Paella is a Valencian rice-based dish, and in Miami it is often served at social gatherings. Typically cooked in large pots using many ingredients, sometimes the preparation is part of the entertainment.
Indoors ...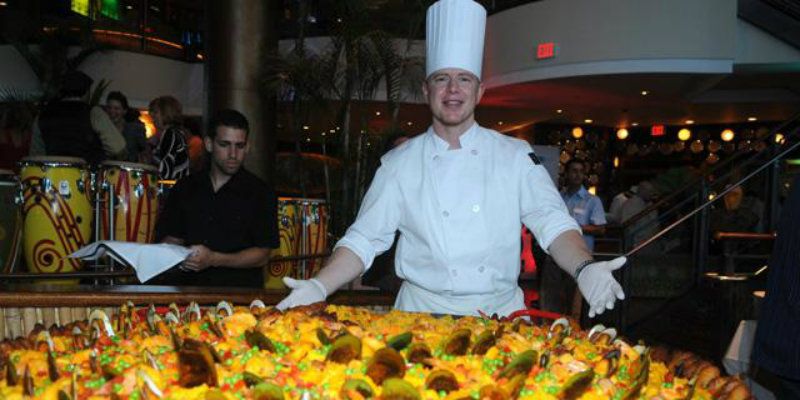 Or outdoors ...
I'm sharing what I consider a
simple
version which I like to make at home, and to prove it's simple, I cooked it today after returning last night from a weekend road trip with Miss A.J. (daughter). It only takes about 30 minutes or so.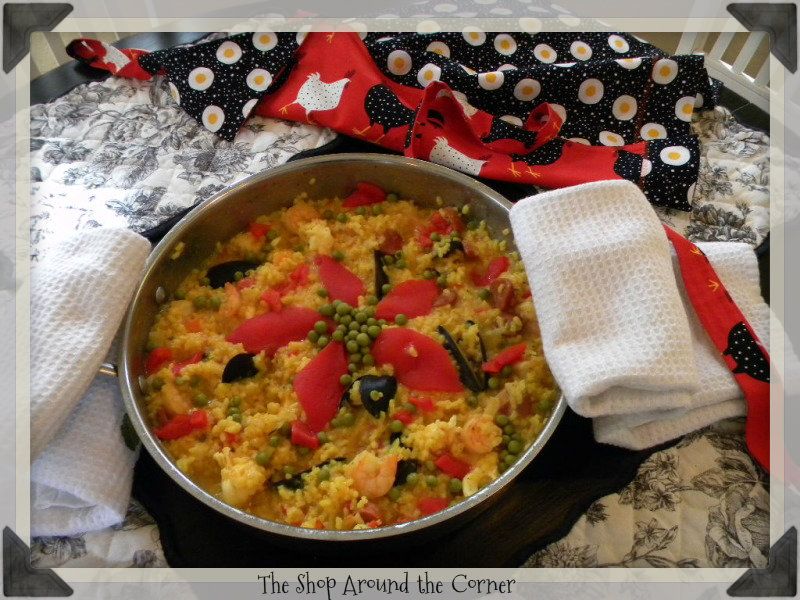 There are many variations of paella, some are all seafood, some include chicken and other meats.
I prefer an all seafood paella
. with the exception of Spanish chorizo (sausage) which enhances flavor.
The type of rice used for this dish is very important. I don't recommend long grain rice because short grain absorbs more liquid resulting in more flavor with the rich creamy consistency this dish is meant to have.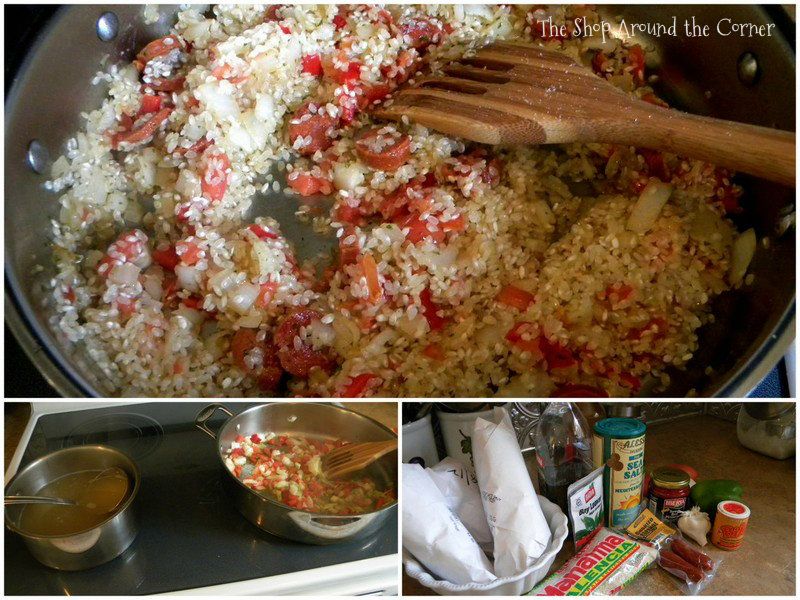 You don't need a special pan for this. I use two, one is a 5.5 quart casserole, the other is a 2 quart saucepan for the broth.
I like to use Valencia rice, and there are many brands available. If they don't sell it in your area, just use another type of
short grain white rice
. Please excuse the blurry pics.
You must add hot broth to the rice throughout the cooking process, never allowing it to dry.
SIMPLE PAELLA
It's difficult for me to share my recipes because I RARELY keep track of measurements when I cook (which is why I do not like baking), but I tried to list some ingredients in the order I used them.

Ingredients
1-2 tablespoons extra virgin olive oil
1 medium white onion, finely chopped
1 medium green or red bell pepper, chopped (I used red)
3 garlic cloves, minced
4-6 plum tomatoes, chopped
2 small Spanish chorizos (sausage), chopped
6-8 cups hot chicken broth
a few threads of saffron diluted in the broth (I use bijol, a powdered Spanish condiment)
2 cups Valencia rice (or other short grain white rice)
sea salt and black pepper to taste
2 bay leaves
1 teaspoon cumin
drizzle of dry cooking wine
1 pound shrimp, unshelled and cleaned
2 lobster tails, unshelled and chopped
1/4 pound mussels
(you can use any combination seafood you like)
1 7-ounce jar sweet red pimentos, drained
1 cup of green peas

Method
In a 2 quart saucepan, bring broth to a boil, reduce heat and add saffron. In a 5-6 quart casserole pan, heat oil over medium-high heat, add onion, pepper, garlic and tomato, stirring until onions are translucent (2 min or so). Add Spanish chorizo and stir for a couple of minutes. Add rice, salt and pepper, cumin, bay leaves, and a drizzle of cooking wine, stir. Add enough HOT broth to cover rice (about 2 1/2 cups), lower temperature to med-low and cover. At about every two minutes or so continue adding broth. You will not believe how much broth this rice absorbs, but
DO NOT LET IT GO DRY.

Once rice is cooked with this process of adding broth every two minutes (about 15 minutes), add all seafood and more broth. Cover and cook until shrimp is pink and mussels open (about 4 minutes). DO NOT OVERCOOK. Stir in peas and pimentos, decorate if you like. Serve straight from the pan.
You may want to serve side dishes like fried plantains, but for me a pitcher of homemade sangria is more than enough.
I like to make mine with chilled red wine (Cabernet Sauvignon), lemon-lime soda, sliced oranges and limes, peeled and chopped pears, halved white grapes, and other favorite fruits. If you like your sangria stronger, you may also add brandy or rum.
Salud y buen provecho!
(to health and good profit...or enjoy your meal)
Stay tuned for our apron farewell post coming up this week. :(

Previous apron posts at, THE TROPICAL TOUR and THE CHOCOLATE FACTORY
.
Marked images ©2012 The Shop Around the Corner
Other images via Google