It's time to say goodbye, but I'm looking forward to seeing the apron spreading more of its magic.
None of us were brave enough to get in front of the camera, sooooo ...
... we asked Guillermo to step in for us. Yes, he's a giraffe! What? Doesn't everybody have a personal giraffe chef? ;)
As some of you may recall, the traveling apron flew into Miami on the wings of Hurricane Sandy, so for its next visit it has chosen to follow the path of the storm.
I'd want to visit with each of you, but it will soon be heading to Pennsylvania where my dear friend, Linda from
Random Creativity
lives. I've known Linda from my previous blog and I am so very grateful for her.
Thank you for being a friend, Linda.
Which reminds me, this visit will take place just in time for
Thanksgiving, my favorite holiday
.
Linda's porch
Thanksgiving at Linda's ... I almost want to jump in the package myself, but before I send the apron on its way, I'm tucking in one more recipe.
If you ever visit Miami, you must stop at one of our many Cuban cafe stands for some "pastelitos de guayaba y cafe Cubano" (guava pastries and Cuban coffee...no such thing as espresso here). ;)
If you can get your hands on guava paste in your area, these yummies are very easy to make at home.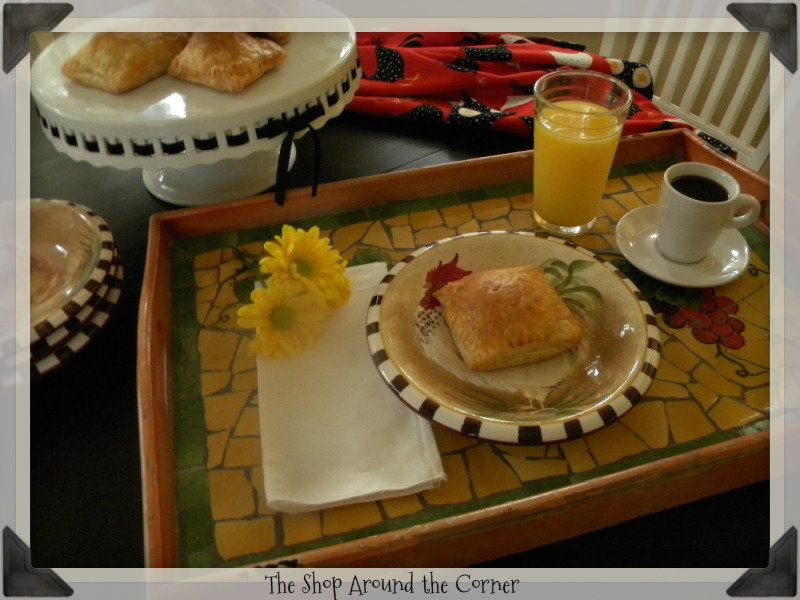 Puff pastry can be made from scratch, but I'm going to go for simplicity if you don't mind.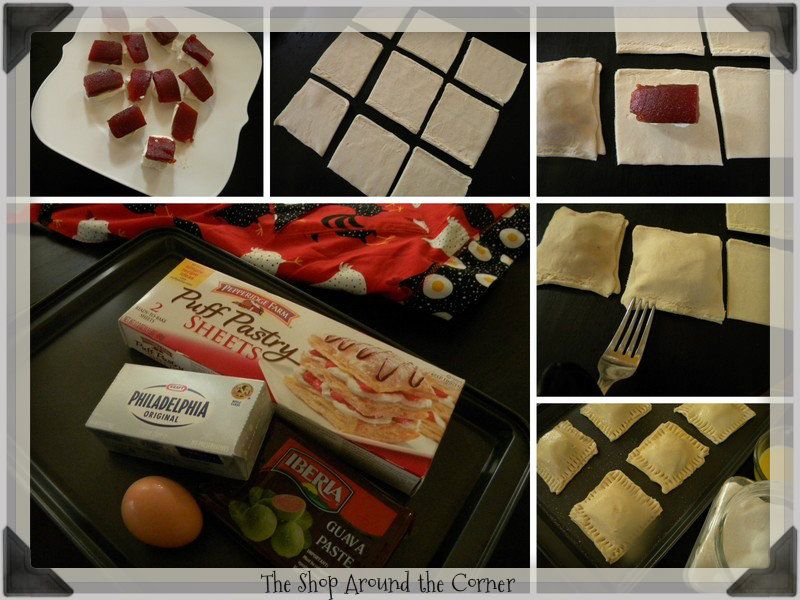 The ingredients and method are self-explanatory in the pictures. Egg is for brushing with egg wash before popping in the oven at 350°F for 30 minutes. Oh yes, and don't forget to sprinkle a little sugar on top after brushing on the egg wash.
Flaky outside and gooey inside; so good that even the camera lense got foggy.
We bid you farewell, traveling apron, "
de Miami con amor
" (from Miami with love). I'm thankful for the magic and for all the new sisters I've gained. May you never forget our tropical flavors and chocolaty concoctions, and may the fragrance of Grace linger wherever you go.
Stay tuned for a new tag giveaway inspired by this special visit...
and I might just share a picture with the apron after all. You didn't think I was going to stop posting apron posts, did you? ;)
Previous apron posts at, THE TROPICAL TOUR, THE CHOCOLATE FACTORY and SIMPLE PAELLA.
Marked images ©2012 The Shop Around the Corner
Other images via Google